So, summer has been and gone and its been great – amazing in fact. Your skin has been sun-kissed but all the holiday humidity, sunlight and festival styling has taken its toll on your hair. Your brilliant beachy summer colours and cuts don't always have to mean starting again by the time autumn swings around. Here are six ideas to work with to transition from summer to fall hair.
1. THE BLUNT END, MID-LENGTH TRIM
This look is perfect if you've had a layered summer cut but need to tidy up any split ends and redistribute some healthy weight back around your face.
Celeb inspiration: Margot Robbie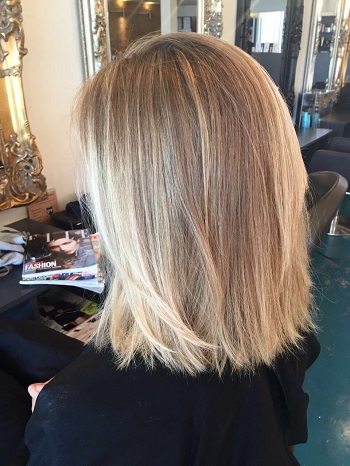 Salon inspiration: Mid-length trim by Bee at Live True London hair salon Putney
2. THE REVERSE BALAYAGE (OR SHADOW LOW LIGHTING)
If you haven't heard of a reverse balayage and had your hair bleached for summer but now it isn't as subtle as you'd like for Fall – a reverse balayage could recreate multi-tonal depth by darkening your roots. By having your LIVE TRUE stylist use this balayage technique, you will add depth in a more natural way.

Reverse balayage by Jess at Live True London hair salon Battersea
3. THE MIDDLE PART FOR GROWN OUT BANGS
If your once beautiful bangs are starting to kiss your eyelashes, but you're not sure about getting a trim yet – middle part them. This 90s-inspired look is best worn sleek and unfussy. We recommend Redken Quick Tease to calm and tame your bangs into place.
Celeb inspiration: Alexa Chung
4. THE LOBBED, LOB
There are some new sexy lengths out there that will help you say bye-bye summer and hello mulled wine. We love the long pixie or jawline bob.

Celeb inspiration: Keira Knightley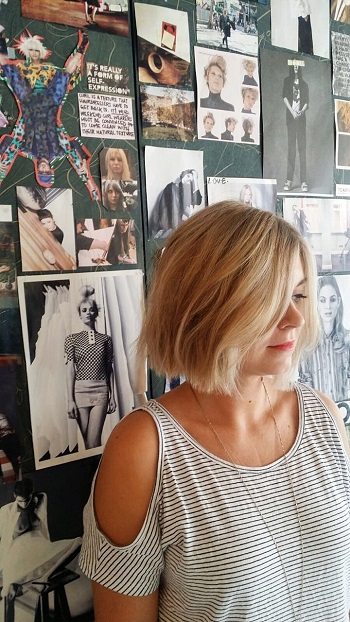 Salon inspiration: Lob by Stephen at Live True London hair salon Putney
5. FROM BEACHY WAVES TO SLEEK CURLS
A simple but classy way to transition into the fall is to swap your tousled styling for a more polished sleek curl. Apply Redken Velvet Gelatine, blow dry your hair and curl your locks using a barrelled curling tong to achieve this look at home.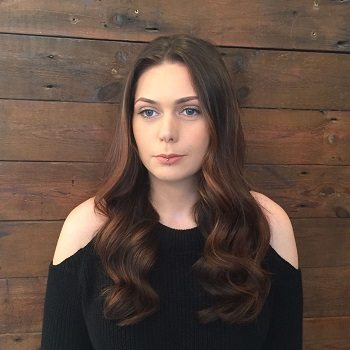 If you want us to create this transformation, LIVE TRUE stylist Yonny from Live True London hair salon Clapham is your man. Book him and reference this post.
6. THE PUMPKIN SPICE LOOK
Autumn is all about pumpkin spice lattes and copper hues. We are loving the Potters Clay Pantone as inspiration for creating this seasons must have look.
Whether you're a brunette, blonde or blue (…well perhaps not blue), injecting some warmth with this beautiful autumnal colour, is a more dramatic way to say autumn is here.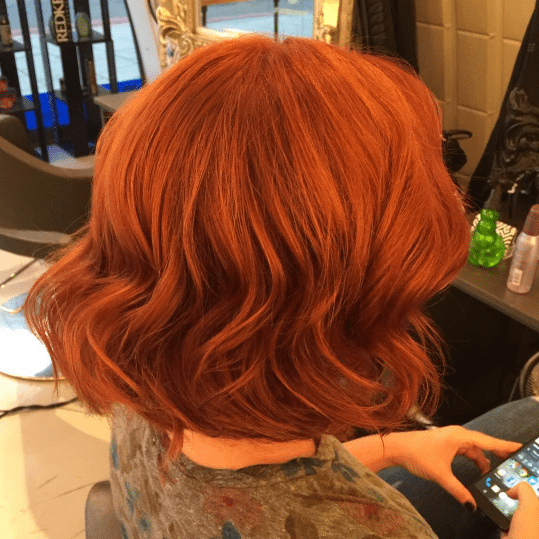 Copper Balayage by Orlando at Live True London hair salon Clapham
LIVE TRUE stylists who are balayage rockstars:  Paco at Vauxhall, Younes at Brixton and Tatiana at Clapham.
WHAT WILL YOUR NEW FALL LOOK BE?
Just in case you haven't heard of LIVE TRUE LONDON, we're a full-service hairdressers, offering creative and on trend cuts and colour across London, England. So, if you want any of the above looks, cuts or colours – find a Live True London hair salon near you and book an appointment.