You have just got a new set of gel or acrylic nail extensions applied and your nails are looking immaculate. So how do you take care of them without causing any damage until your next appointment? We have compiled a list of nail extension aftercare top tips to ensure your nails look their best well after you have left the salon.
In general, be careful when doing things so you don't damage your nail extensions and ultimately damage your natural nail. If you have gel or acrylic extensions, be gentle for the first 24 – 48 hours after they are applied. It takes time for the bonding process to be completed.
Protect your nails by using gloves when doing housework and garden work. This will protect the condition of the nail.
Stay away from heat and fire, this may cause your nail extensions to melt.
Remember to moisturise your hands after washing them. This will allow the skin and nail bed to stay moisturised and smooth.
Gel nail extensions by Hajnal at Live True London Vauxhall Hair and Beauty Salon
Use cuticle oil every evening. Cuticle oil will nourish the nail resulting in a stronger natural nail.
If you paint over your nail extension with another colour remember to use non-acetone polish remover to remove the top coat without damaging the enhancement underneath.
Do not pick off your nail extensions as this will remove the top layer of your natural nail, compromising its health and quality.
Always use a base coat on nail extensions before applying colour, to prevent the discolouring of the enhancement, and remember to use non-acetone polish remover to prevent any damage.
Acrylic nail extensions by Anca at Live True London Vauxhall Hair and Beauty Salon
Always have your nail extensions professionally removed in salon to prevent damage. We suggest having a manicure after removal to tidy the nail, clean the nail bed and generally have the nail looking in better shape.
Attend regular manicure maintenance appointments, approximately every 2-3 weeks, to keep your nails in shape and looking their best.
If there are signs of nail lifting, come into the salon to correct the enhancement before water and bacteria settle under the nail causing infection.
Avoid using moisturiser, sun lotion or tanning products which contain Lanolin or Mineral Oil. These ingredients will cause acrylic extensions to weaken and lift.
Book your next nail appointment at Live True London Vauxhall Beauty Salon and have our nail technicians pamper you with our menu of nail services.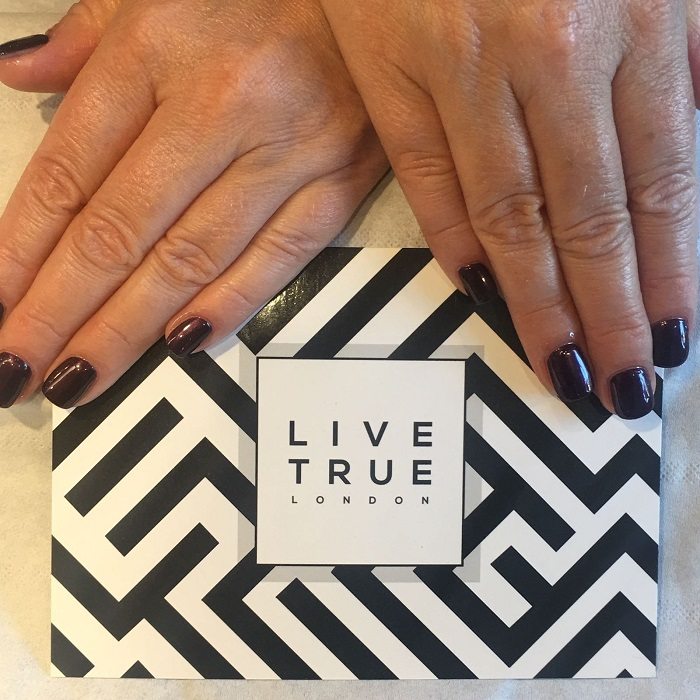 Acrylic nail extensions by Anca at Live True London Vauxhall Hair and Beauty Salon