CAFÉS IN SOHO YOU NEED TO TRY
My Place Soho
Café by day, and bar by night, this unique and classy venue attracts all types, earning its place as one of the best cafes in Soho, London. They deliver an all-round experience, and with their well renowned coffee, full course menus and the hottest cocktails around makes My Place Soho the go-to location in this bustling area of London. What other cafes can accommodate an eggs benedict with a side of espresso martini?
Foyles
Based right in the heart of the west end inside a bookshop in Soho, London, the Café at Foyles brings a different atmosphere to the table. Typewriter key signage and unique letterpress themed counters makes this place the perfect environment to relax and escape in the journey of your choosing. 
Tap Coffee
Based on Wardour street in Soho, London, this nature inspired coffee shop certainly brings a natural level of sophistication to its visitors. With tree trunk tables and a cool minimalistic theme, this place surely calms the senses. Friendly staff, delicious coffee and an assortment of high-end pastries, this place will be sure to leave you wanting more. 
Maison Bertaux
Situated on the famous Greek Street in Soho, London, Maison Bertaux delivers a taste of the finer things in life with their juicy selection of artisanal pastries. Dating back to 1871, this quaint patisserie has mastered their craft, proudly presenting their classic French heritage with freshly made artisanal goodies. Allow yourself to be transported to southern France with a fresh café au lait and their signature cheesecake. 
Cutter & Squidge 
Like the idea of living in a fairy tale? Look no further. This gorgeous café leaves you in awe with an enormous variety of jaw dropping cakes, cookies, brownies among many other delightful treats. Beautifully decorated and hidden within a secret garden, Cutter & Squidge is an absolutely magical venue for the family, a truly unique experience and well worth a visit!  
Bar Italia
Located on Frith street in Soho, London, Bar Italia is the social hub for the Italian community, serving Italian grade coffee since 1949. Presenting such an unmissable outside character, celebrities among the likes of Gino D'Acampo, Martin Freeman and Emily Ratajkowski have frequented this iconic location. If you're looking for a taste of Italian heritage, you'll find it here. This is one of the top cafés in Soho y
ou need to try.
Said
Now for all you chocolate lovers out there, Said café is without a doubt unlike any other, with a chocolate factory-like theme presenting a marvellous array of chocolate moulds, pots, and of course, chocolate. This place is sure to take you back to your childhood, so why not sit back with some rich hot chocolate and Said's specially moulded chocolate spoon.  
Rapha Cycle Club
Who's to say you can't have coffee in a mountaineers shop? Well this place certainly doesn't. Established in Soho, London, with its mountainous theme and upmarket cycling shop containing all the gear you need to get going on your next venture, this one of a kind suave Italian café unquestionably stands out. If you're an avid cyclist looking for a community to share your passion, Rapha Cycle Club is definitely the place for you. 
Soho Grind
Smooth with a hint of Rock & Roll, Soho Grind doesn't disappoint. Situated in Soho, London, this is no ordinary coffee shop. This hot venue serves top class coffee and freshly made juice and smoothies from an experienced selection of friendly baristas, however in the evening Soho Grind comes to life. Bringing hot clientele, the Rock & Roll vibe comes into full swing with a downstairs bar serving a wide range of cocktails to suit your every need. Of all the places to go in London, this venue should be towards the top of the list.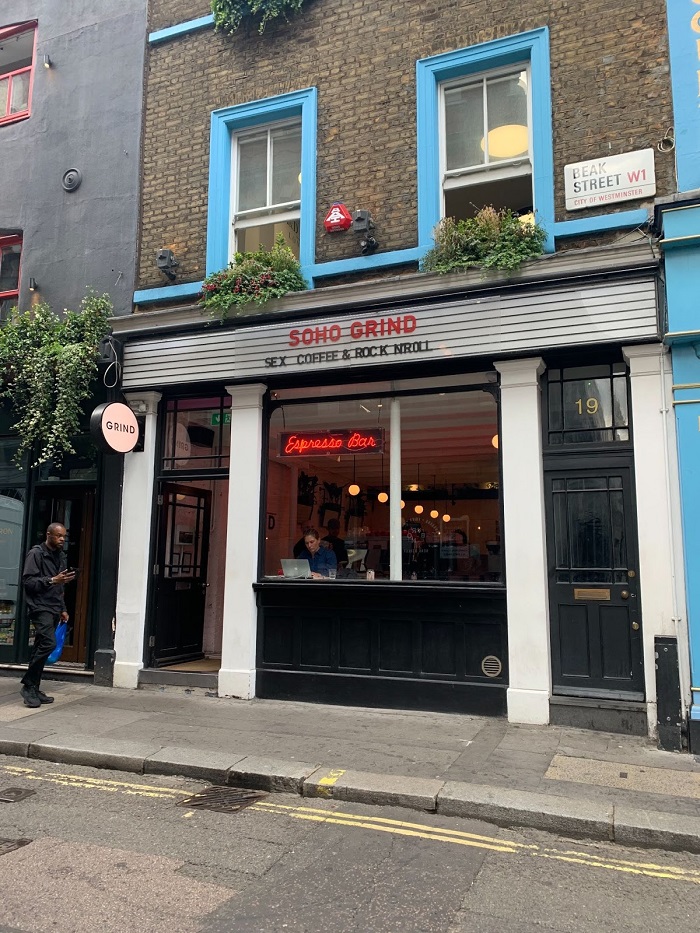 Live True London Clapham Salon | 020 7627 0169
Live True London Vauxhall and Nine Elms Salon | 020 7582 6312
Live True London Brixton Salon | 020 7924 9506