Colour Transformations – Here are our top 10 colour transformations of all time. From brassy to ash, short to long and light to dark, these looks will show you how we can transform your hair:
1.Long Hair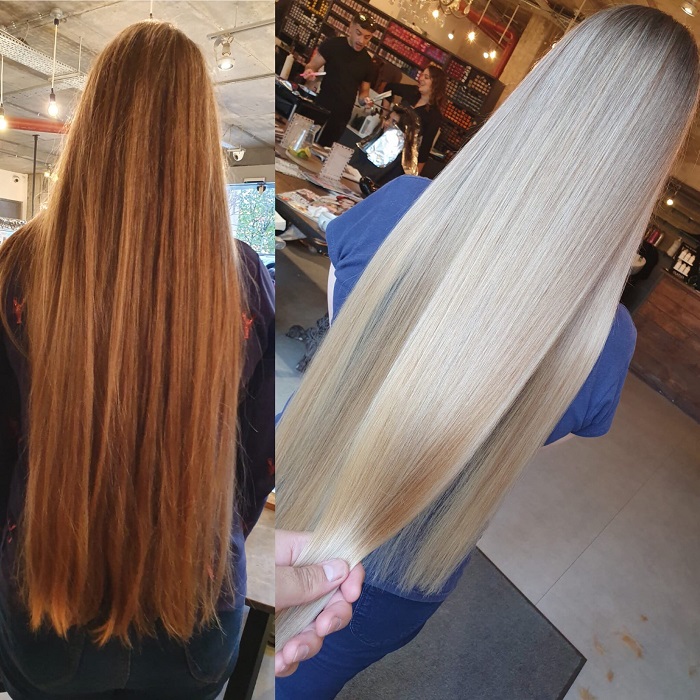 Transforming long hair is no easy task! Long hair needs extra special care to maintain the best condition possible. When undergoing such a transformation, we recommend adding Olaplex to your colour to maintain strength.
Removing warm pigment can take more time in longer hair as the hair at the middle and the ends may have been coloured repetitively resulting in a build up of pigment. If you are undergoing such a transformation, it is important to speak to your stylist at your consultation about your hair's full colour history as this will enable them to adjust your colour service to suit your hair's particular needs.
As ever, aftercare is incredibly important to ensure that the hair keeps its elasticity and moisture. A good professional shampoo and conditioner is a must, as are weekly at-home conditioning treatments.
2.Removing Warmth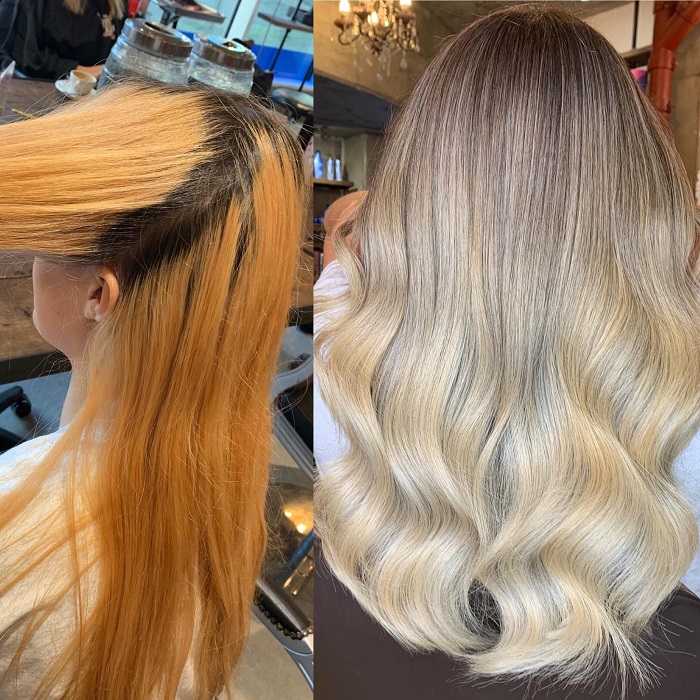 Warm pigments are the most difficult to remove and several services might be needed to obtain a clean light blonde colour. To achieve this look, we recreated a natural base on the roots and worked a Live True Balayage technique on the rest of the hair. This technique allows maximum lift that would be needed to remove the warmth. Toning services are needed after every lifting services so that pigments are brought back into the hair and the desired shade can be achieved. More than one toner may be needed to neutralise unwanted tones before the right shade can be achieved.
3.Colour and Length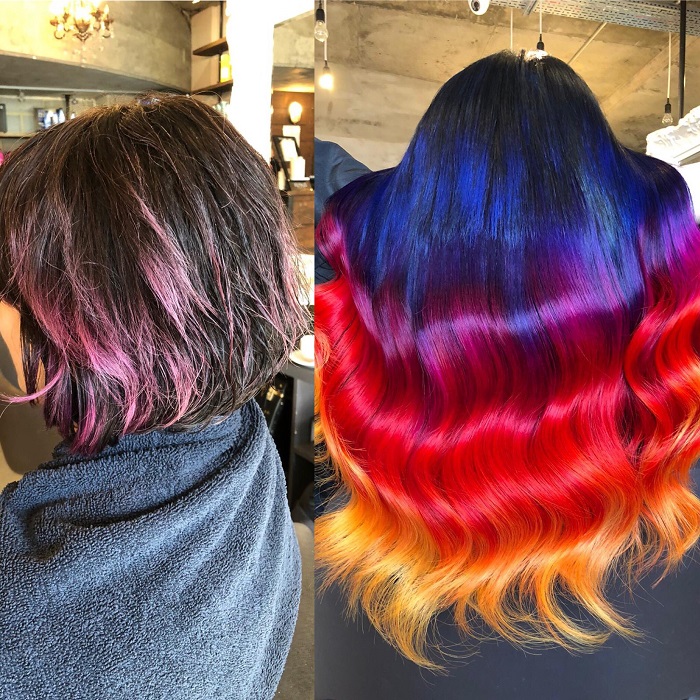 This is a full transformation with both colour and length! Hair extensions can transform your look by adding volume, length, and colour. The hair colour was created in parallel with the extensions colour, the extensions are coloured before they are applied to the hair and are perfectly matched to the new colour.
To create the blue on the bob, we lifted the natural hair colour and applied a blue tone on top. This blue tone matches with the top of the extensions so that a seamless blend is created.
Extensions require the right aftercare in order to maintain good hair and scalp health and it is important to listen to your stylist's advice. Properly looked after hair extensions can be reused many times.
4.Mermaid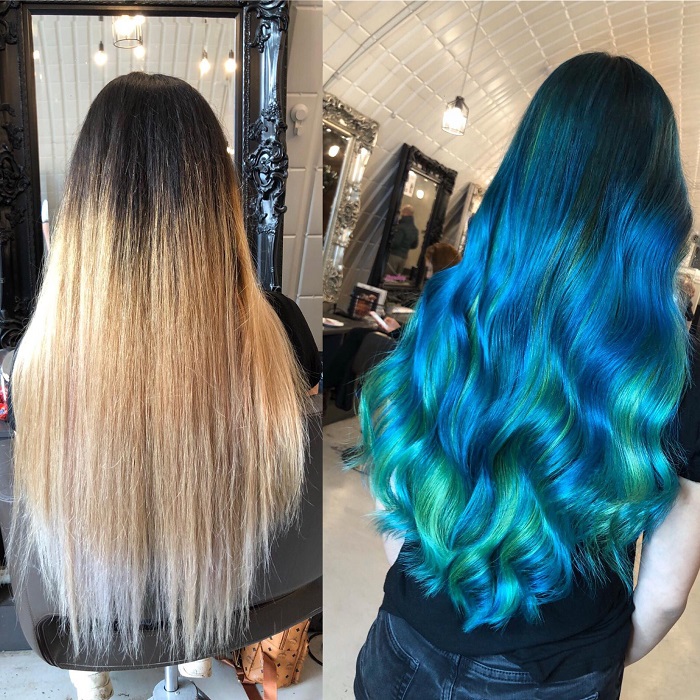 To create this mermaid look, we had to start by cleansing the colour to a cleaner blonde. This removed the different blonde tones and made a suitable base for the new colour. We then added blue and green tones in a balayage blended effect.
As with all vivid colours, this look needs the right at home aftercare to maintain the colour for longer. Regular salon visits are also needed to keep the tones fresh and vibrant as vivids tend to fade quicker from the hair.
5.The Perfect Blonde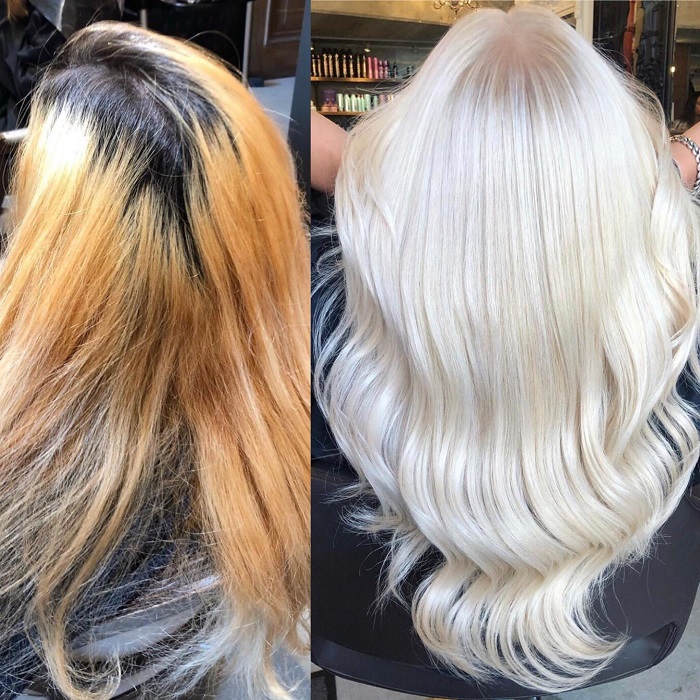 Achieving the perfect blonde is a step by step process. To create this platinum blonde, we had to undertake a series of services in order to remove the patchwork of colours from the hair. As with all big colour transformations, we recommend Olaplex be added to the colour for added protection.
6.Removing Colour Bands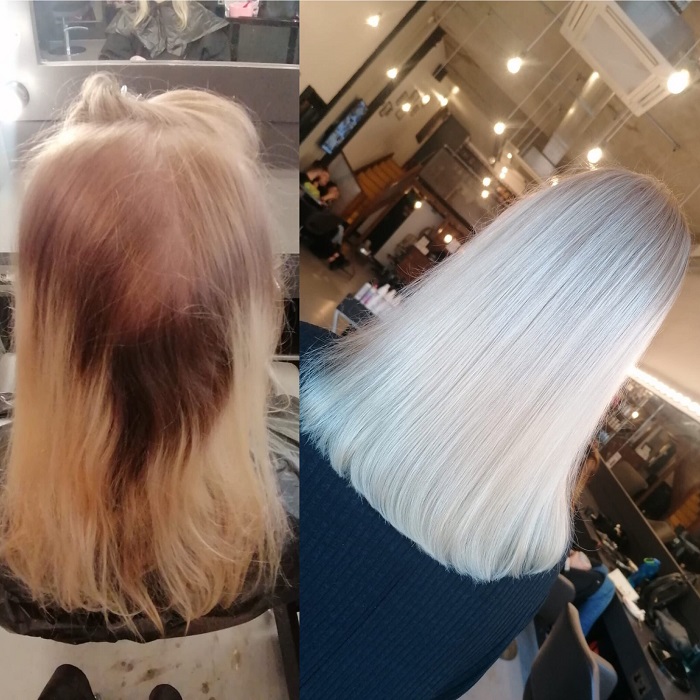 Removing bands of colour is one of the most important steps in a colour correction. This client had a band created by box dye colour. To create the perfect blonde, extra work was needed to first remove the darker pigments in the band and then to match and blend it into the rest of the hair. At Live True London, our colourists specialise in complex cases such as these and undergo intensive training to be able to fix even the most difficult cases.
7. Pigment Build-Up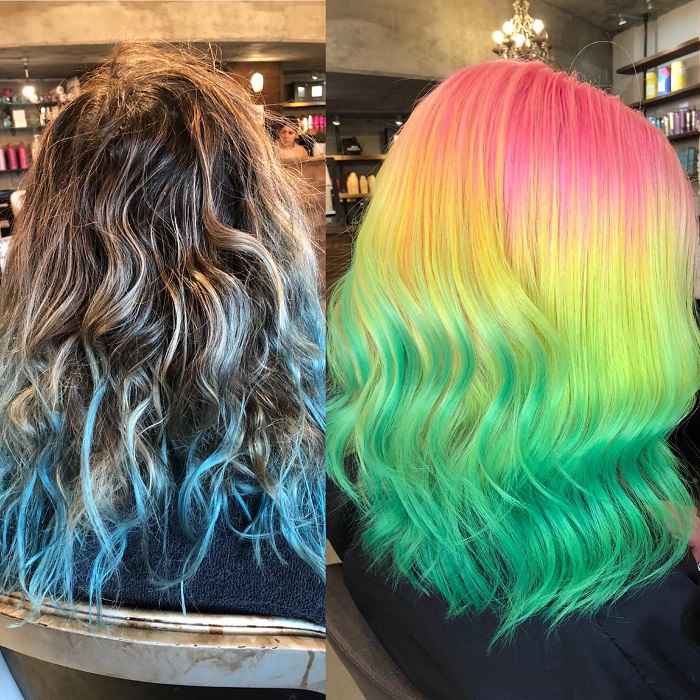 For this transformation, we had to cleanse out the existing fashion colour to create the ideal base upon which to build this ombre blend. In order to avoid lines or bands of colour, the vivid tones need to be carefully blended together for a seamless effect.
8.Box Dye
Box dye can create different shades, uneven results and be very hard to blend. In order to remove these unwanted tones, a colour correction is often needed.
A colour correction is a complex process that can take several hours with multiple steps needed to get as close as possible to the desired colour. Olaplex is always recommended for colour corrections from box dyes as box dyes often compromise the integrity of the hair meaning that extra protection is need during colouring.
The result is beautiful, well-blended colour and health hair – this is one of our favourite colour transformations of all time.
9.Ash Blonde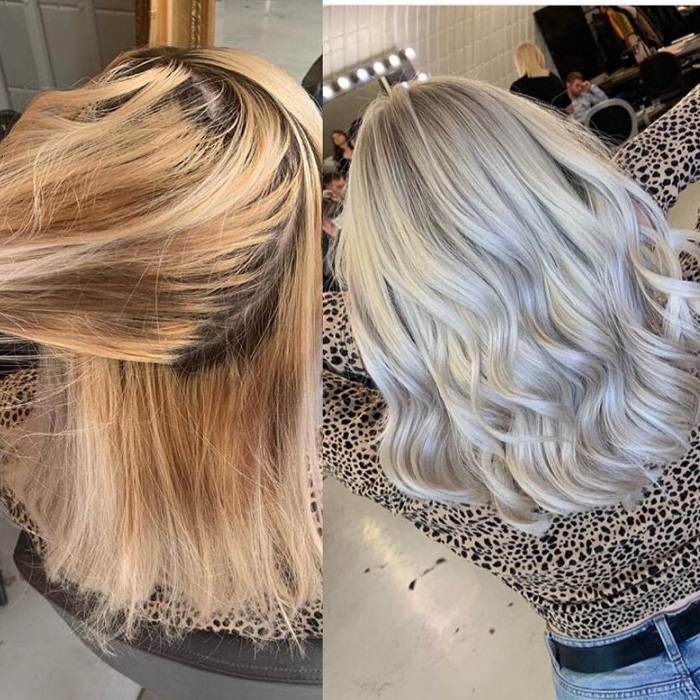 Ash blonde is a very sought-after colour and requires a high degree of initial lift for the ash pigments to sit properly on the hair for this colour transformation. For the transformation to be done, we had to lifted the hair colour to a very light blonde and applied a toner over it to add the ash pigments. To maintain the vibrancy of this colour, regular toning services in salons are needed.
10.From Blonde to Dark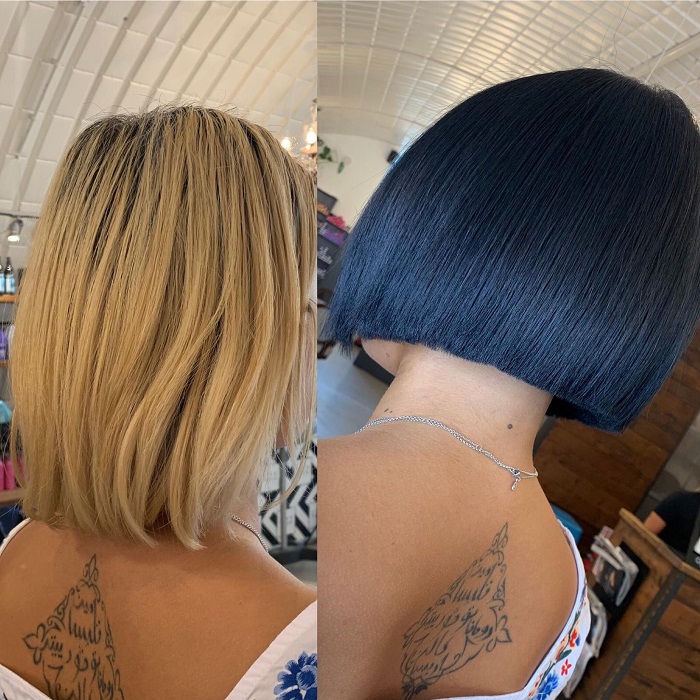 Hair transformations can be from blonde to dark too! This is a great example of a drastic change; the colour is extremely shiny after the re-pigmentation. To go from a light colour to a dark one, precolouring the hair is needed before we can apply the new shade. This ensures that the new pigments adhere to the hair so that the colour can last longer.
If you're ready to book, make an appointment today using our online booking system here – easy as can be!
Live True London Clapham Salon | 020 7627 0169
Live True London Vauxhall and Nine Elms Salon | 020 7582 6312
Live True London Brixton Salon | 020 7924 9506