TOP 5 LOCKDOWN MAKEUP TIPS IN UNDER 5 MINUTES
Tip 1: Base –
Using your favourite foundation, apply your product to an Artis brush and cover the whole face, neck and ear areas. Artis brushes do not soak up product like modern beauty blenders so you will enjoy full coverage super quick and still able to get into all the small detailed areas of the face.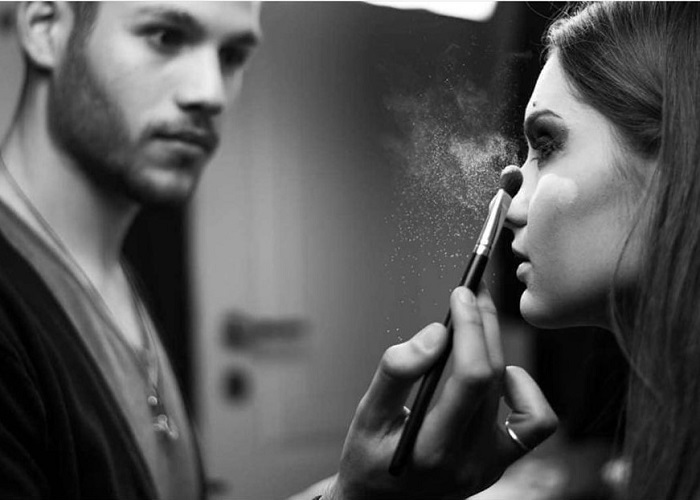 Makeup by Marios at the Live True London Vauxhall and Nine Elms Salon
Tip 2: Conceal & bake – Grab your preferred concealer (ideally a shade lighter than your foundation) and apply under the eyes, middle of the forehead, down your nose and onto your cupid's bow. Using a dampened beauty blender, start blending these areas out to conceal any imperfections and add a healthy glow. Next set these areas with your chosen setting powder and wipe away and excess product.
Tip 3: Classic Smokey Eye (5 minutes per eye) – Always start with a mid-tone shadow and apply all over the lid for your base (Browns, greys and neutral pallets work best). Add a medium tone shadow from the lower lid and blend up to your crease until you reach your desired intensity then apply your favourite gel-based eye liner to your lash line. For added intensity use a dark tone shadow along the upper and lower part of your lid and blend out to your outer corner for one of the best lockdown makeup tips. Finish with a black mascara to make the whole look pop.
Tip 4: Blush – Starting with little product, apply the blush to your cheeks with a relaxed face, sweeping up to your hairline and blending the edges for an airbrushed look. For added colour build the shade up gradually using the same motions (soft pinks, peaches and corals work best for blush). Dab off any excess blush to your chin area for added warmth and definition. 
Tip 5: Getting Lippy & Set – Finish with a natural colour lip gloss for a natural day look or with your favourite lipstick to finish the whole look and bring everything together. Finish with a make-up setting spray and you're ready for the day.
For some great haircare tips, visit our blog here. And if you're ready to book your post lockdown hair and makeup session, make an appointment today using our online booking system here– easy as can be!
Live True London Clapham Salon | 020 7627 0169
Live True London Vauxhall and Nine Elms Salon | 020 7582 6312
Live True London Brixton Salon | 020 7924 9506