Life on Wardour Street, Soho
With the wide variety of bars, restaurants and clubs that Soho, London has to offer, it may be hard to know what to choose. Wardour Street Soho brings a buzzing and multicultural atmosphere to the area, with a great selection of LGBTQ+ venues and attractive cafes overlooking the bustling crowds that are present every day.
BARS
Wardour Street houses some of the coolest LGBTQ+ bars in London, including Freedom Bar and Friendly Society.
Freedom Bar, Soho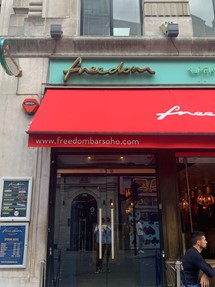 On 66 Wardour Street, Freedom Bar is definitely one of the hottest LGBTQ+ spaces in London, featuring a swanky bar, funky seating and a wide dance area, you're sure to get your boogie on here.
Yard Bar, Soho
Just off Wardour Street on Rupert Street, you'll find the Yard Bar. This venue is certainly the most unique of LGBTQ+ bars, tucked away in a courtyard with roman statues, funky mood lighting, and a warm balconied loft bar. A great place to chill out during the summer months or winter with heated lamps.
Friendly Society, Soho


Friendly Society is certainly out there. With spotted, barbie doll and flower covered walls and gnome seats, this place certainly takes the podium as one of the weirdest and most out there bars in London. If you're looking to have a laugh and a very different experience, Friendly Society has got you covered.
RESTAURANTS
Looking for some foreign cuisine? Maybe a swiss-style fondue? Soho is famed for its multicultural crowds and Wardour Street has just what people are looking for.
St. Moritz, Soho
The St Moritz Restaurant takes you to the slopes with a wide array of delicious fondues, tasty garlic snails, succulent sirloin steaks and of course, cuisses de grenouilles (frog legs!). This refreshing taste of Switzerland is a popular attraction for many and is highly recommended.
Banana Tree, Soho
Next up on 103 Wardour Street, Banana Tree Soho is a Pan-Asian restaurant serving food from the Indochina region, featuring an open kitchen and communal tables to rpvide that extra sense of buzz and excitement. It's rapid increase in popularity and multiple 5 star reviews, it's no surprose why this unique restaurant is on the list and has become a chain of London resturaunts over recent years. Banana Tree Soho serves a range of different naughties, including a beautiful selection of starters, spring rolls, sticky thai wings, and calamari with a twist. Mains feature Soupy and Wok Tossed noodles as well as their regional specialities and curries. If you're looking for something a little different, Banana Tree is the place to go.
Ruby's, Soho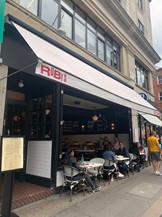 A personal favourite for its location and vibe, Ruby's is located on 56 Wardour Street. A stunning cafe and restaurant by day, with simply delicious meals ranging from fresh calamari to speciality wagyu, this venue doesn't fall short. As the evening approaches you can catch happy hour from 4-7pm, experienced barmen and a great setting makes Ruby's a top contender in Soho nightlife.
LIVE TRUE LONDON SOHO
At 173 Wardour Street lies our newest salon, Live True London Soho. Here we set out to deliver a next to none experience serving delicious drinks while offering a full range of hair care services, as well as manicures and waxing services. Why not visit us in one of the trendiest places in London to pamper and refresh before a great night out just outside the door!
Book your appointment now at Live True London or call 02045314743 and get the look you've been waiting for. 
Our other salons:
Live True London Clapham Salon | 020 7627 0169
Live True London Vauxhall and Nine Elms Salon | 020 7582 6312
Live True London Brixton Salon | 020 7924 9506